Alex Jornov Band
Firehouse Sunday 2:00pm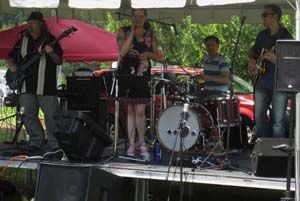 The Alex Jornov Band is a well-oiled rhythm and blues machine from New York's Hudson Valley. Built around the powerful, soulful voice of Alex Jornov, the band is made up of a group of highly skilled and experienced musicians from the fertile, upstate local music scene who combine to form a funky, driving sound which gets young and old up out of their seats. The band's versatility is immediately apparent in their live show. From old, bluesy jazz numbers by the great Nina Simone, to the fresh sound of blues-soul by the likes of Sharon Jones, your crowd will hear songs they never knew they loved right along with some old favorites. The group's ability to gracefully flow between blues, civil rights era R&B, funk/soul, and even throw in a jazz standard or two keeps the audience interested and moving to the beat all night long.
Barbara Dempsey And Company
Firehouse Saturday 2:00pm
Coming to your craft later in life can be a powerful thing. Discerning listeners appreciate an artist whose work is seasoned with years of sage personal experience and a deep well of musical influences. Barbara Dempsey, who didn't begin writing until she reached middle age, is just such an artist. About Love..., her debut album, reveals that the long wait has paid off - beautifully and movingly so. "I started playing guitar when I was 12, but I never thought I could write my own songs," says Barbara. The Hudson Valley resident traces her wanting to be a singer to her father's Billie Holiday and Dinah Washington records and discovery of the Beatles, Janis Joplin, and Joni Mitchell in high school. "When I was in my 40's, though, it just felt like it was time to try. A door opened and I just stepped through."
Big Bowl Of Soul
Firehouse Saturday 1:00pm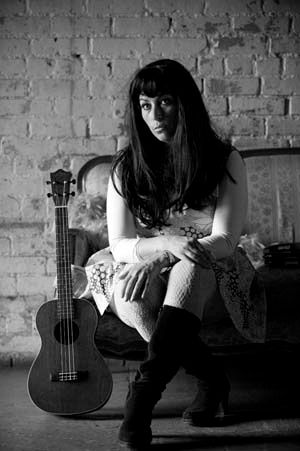 Big Bowl of Soul is dedicated to unearthing and paying tribute to lesser known soul masterpieces of the 1960's. With a touch of jazz, a dash of funk and a whole lot of rockin' vocals, Big Bowl of Soul shingalings in the spirit of Irma Thomas, Sugar Pie De Santo, Dee Dee Warwick and other lost divas of the vinyl era.
The Big Heavy
Mountain Sunday 3:00pm
The Big Heavy is a funk/rock/reggae cover band that has been performing throughout the Hudson Valley since 2005. They specialize in dance partying, snorkle-breaks and sarcasm.
Big Sister
Mountain Saturday 7:00pm
Big Sister has undeniable chemistry. Lara Parks, Shelly Prior, Lisa Wexler and Desiree Williams joined forces in music history showing bands of all creeds, gender and genre how it's done. Occasionally, Drummer, singer Denise Parent plays with Big Sister making the double drums interplay irresistible. Guitarist extraordinaire, Jen Leigh also sits in. Whether it's the original four or the six piece, they are exceptionally and deeply rooted in rock n roll. Big Sister played The House of Blues, the Rock n Roll Hall of Fame, Woodstock 94, and graced the pages of Rolling Stone, Drummer, Guitar One and Guitar Player and Bass Player Magazines. They have opened for The b-52's, The Band, Bo Diddly, Joan Osborne, and countless other greats. Their recorded works span two decades including 'So Hi How Are You', recorded on major label Capricorn Records. After 25 years, Big Sister continues to rock and dazzle listeners.
Black Mountain Symphony
Café Sunday 2:00pm
Black Mountain Symphony showcases an eclectic range of influences, blended together to create their own special sound. From baroque classical violin and haunting folk-tinged ballads to funk-rock drums and hard-hitting dance numbers, the five piece band sprinkles their live sets with hints of everything from classical music to bits of Motown, blues and jazz. Whether touring nationally or performing at their favorite local digs, this up-and-coming group of young musicians features a roundtable of powerful lead vocals and harmonies that dance with captivating violin lines and soar over stunning soundscapes, shaped by years of classical training infused with an irresistible love for musical roots and a fresh, ultramodern mentality. The group implements the same skill and vision on cover tunes as they do in their own carefully crafted compositions, and in the process manage to capture something unique and refreshing… This is Black Mountain Symphony.
Bloom
Canal Lock Sunday 1:00pm
Bloom is a Community Voice Ensemble founded and run by Musician, Songwriter and Teaching Artist Debbie Lan. The group, in its 7th year, meets once a week and enjoys singing a large variety of eclectic music. A place where people can go to sing, no matter their level of accomplishment, Bloom occasionally performs at community events.
Bob-Kat
Café Saturday 2:00pm
BobKat is a collaboration of singer/songwriter/guitarist Bobby Kennedy and his youngest daughter/vocalist Kate Kennedy. This multitalented duo has graced the Rosendale Street Festival's stages for more than 15 years! BobKat performs an eclectic mix of contemporary hits as well as Bobby's originals, which can be found on the newly re-mastered Late Bloomer CD, available at cdbaby.com. Kate Kennedy has been professionally involved with the Hudson Valley's music scene since age 10. She's currently making a name for herself as an artist in the Philadelphia area, writing and recording with local bands and singing at karaoke competitions and many collegiate sporting events. BobKat plays throughout the Hudson Valley and are often joined by Still UnDivided, Bobby's twin daughters Kimberly and Samantha.
The Carl Mateo Group
Canal Lock Saturday 7:00pm
The Carl Mateo Group plays character driven, atmospheric original songs built to showcase the ensemble playing of the group. with Carl Mateo on piano, DADDAD guitar, electric harmonica and vocals, Peter Dougan on left handed thumping acoustic, electric guitar and vocals, Paul Schiavo on the deep bass and Josh Tyler creating solid "muddy river" grooves to carry it all home. Americana based, funky blues, soul, jazz and rock driven accents carry the voices in these songs and the listeners bearing witness on their own unique journey with every performance.
Clouds
Firehouse Saturday 5:00pm
The Clouds gathered from many diverse directions, Amy Planthaber (vocal, percussion, keyboards) and Rich Devlin (guitar, vocal) from the perennial New Paltz band MISFIT TOYS, Joe Ruffini (drum and vocal) and Joe Enright (Bass and vocal) from JO JO GAI, Kevin O'Toole (Guitar and vocal) from TRIAL AND ERROR and Rick Warren (guitar) from J.E.G. Music. THE CLOUDS have been playing a mostly "covers band" show of late but all members are actively working on original material. The members share a unanimous love and respect for the live music experience and are ready to take it to the sky.
The Compact
Firehouse Saturday 3:00pm
This one-of-a- kind ensemble weaves musical tapestries with catchy hooks and syncopations that never cease to surprise. The Compact effortlessly combine elements of various musical styles like sonic chemists. Acclaimed for their spirited live shows, marked by adventurous musicianship and irresistible grooves, they bring audiences to their feet, and keep fans coming back for more. At The Compact's core is the song-writing team of bassist Steven W. Ross and guitarist Erin Hobson whose unique harmonies and vocal stylings are integral to the group's signature sound. With two original albums released, and a third on its way, the band performs at every top music venue in the Hudson Valley and has shared the stage with international acts in virtually every genre; Willie Nelson, Loretta Lynn, Jakob Dylan, Dave Mason, Robert Randolph and The Family Band, and many more.
Murali Coryell
Firehouse Sunday 3:00pm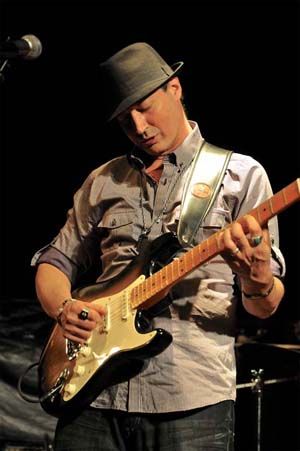 Murali Coryell, inducted into the New York State Blues Hall Of Fame in 2013 and 2014 BMA Nominee, is a triple threat contemporary blues artist who can sing, write and play guitar with the best in the business. As the son of guitar legend Larry Coryell, Murali grew up around the likes of Jimi Hendrix, Miles Davis, & Carlos Santana. The 2013 release Murali Coryell-Live has spent 3 months in a row in the top 25 on The Living Blues Radio Chart: Featuring 13 soul-drenched originals plus covers of Marvin Gaye's "What's Going On", Sam Cooke's "Bring It On Home To Me" and Lowell Fulson's "Love Her With A Feeling", the CD was recorded live at Club Helsinki in Hudson, NY July 30, 2012. Listen to the Murali Coryell channel on Pandora.
D-Squared Blues Band
Firehouse Sunday 4:00pm
Dave Heinlein and Dave Laks are the co-founders of the D-Squared Blues Band. Heinlen, a New York Blues hall of Fame inductee, is the lead guitarist for the band Zumbi Zumbi lead by world percussionist Melissa Lovaglio. Heinlein can be found throughout the region performing with bands and singers on his electric guitar. Dave Laks approaches music in a unique way, whether it be the harmonica, saxophone, flute or Voice. Laks has played harmonica for national touring Bluesman Tas Cru and his band of Tortured Souls. Laks is a sought after instrumentalist and performer with the Hudson Valley blues music scene today. He has toured nationally as a solo artist.
Dylan Doyle Band
Café Saturday 7:00pm
Dylan Doyle is creating a stir in the Hudson Valley music community. Only 16 years old, he has been touring nationally and is booked to play such major Festivals as the 2014 King Biscuit Blues festival in Helena, AR and will be a featured artist in this year's "Burning Man," a celebration of the arts in Nevada. He is accompanied by Will Bryant on bass and Sam Allen on drums.
Greg Englesson
Creekside Saturday 12:00pm
Greg Englesson is a funky roots rocking poet playing topical lyrical folk rap spiced with social satire wound in a zen Blender. Greg Englesson is a prolific songwriter / storyteller with a background in Ethical Social Political Philosophy, founder and front man of NYC's The Chronic Citizens, and he created alter ego Anti ego Mr. E living in Woodstock, NY (international confusion ensued). He will get you thinking, smiling, dancing. Discography Art Not War 2012 / on the brink of it all 2011 / Mr. E Demystified 2006 / Capital Cult, (Chronic Citizens) 1987. Keep an ear out for new releases in 2014.
Fre Atlast & RIA
Canal Lock Sunday 5:00pm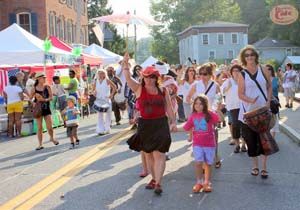 The Rosendale Improvement Association Brass Band and Social Club (RIA) meets and practices every Wednesday at Willow Kiln Park (weather permitting), or at the Recreation Center (if weather is bad) from 6-7 PM. All are welcome to join! RIA brass band believes that making music together is another way of making a good life for everyone in Rosendale.
Frenchy and the Punk
Creekside Sunday 3:00pm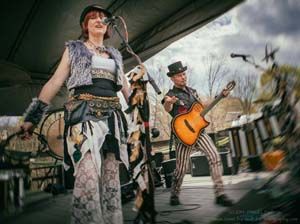 Imagine Django Reinhardt, the Dresden Dolls, Johnny Ramone, Siouxsie Sioux and Edith Piaf jamming together at an event hosted by Deepak Chopra and Toulouse Lautrec. This is what it might sound like. A sultry French-born singer, percussionist and a fiery punk rock guitarist from the golden days of the hardcore scene formed Frenchy and the Punk in 2005. The unlikely pairing has since released 7 full-length CDs, produced a live concert DVD and has performed all across the U.S. and in Europe. In May 2012, Yahoo Music called them one of the top 25 duos in the US. Their show is a carnival of two that will take you from Paris to CBGBs and back again. A rollicking flapper folk-punk cabaret with cleverly crafted songs, Taiko meets Rio de Janeiro pounding drum instrumentals, Steampunk flavor and true pixie spirit.
Fuzzy Lollipop
Canal Lock Sunday 2:00pm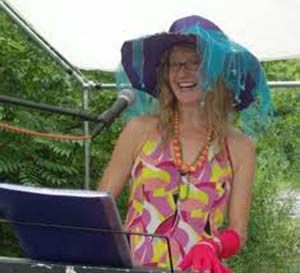 Catchy melodies and lyrics that capture the experience of childhood--expressing wonder, humor, and irrepressible fun. That's Fuzzy Lollipop --a band for fun-loving families. With a great balance of musical styles and lush harmonies, they put on a highly engaging, entertaining show! Musical games, dance-alongs, and rhyming riddles are all part of the fun, creating an active experience for the whole family!
Gozer?
Mountain Saturday 2:00pm
God's Word Worship Band
Mountain Sunday 12:00pm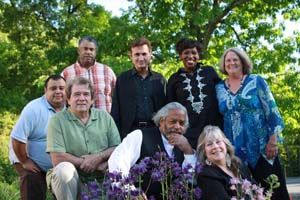 Our mission is to spread the Good News of the Gospel with music. We strive to not limit the style of music that we play, but to have a blend of many different styles that will appeal to more than one group of people. Our style includes R&B, Latin, rock and roll, contemporary Christian, country and others. We released a CD, Father of Life about five years ago, and are currently working on the next one. Based out of Living Word Chapel in West Hurley, NY, we are an eight piece band that has been under the teaching of our Pastor, Don Moore, including Barry SweetJackson - vocals, keyboard and percussion, Mauro Savino - keyboards and vocals, Gabriel Delgado - drums, Barry Lindsay – lead guitar and vocals, Mike McDonough – bass, acoustic guitar and vocals, Tommy Porto – saxophones, flute, vocals, Linda Bergenn – flute and vocals, Cheri SweetJackson – vocals and Migdalia Fortes - vocals.
Grenadilla
Canal Lock Sunday 3:00pm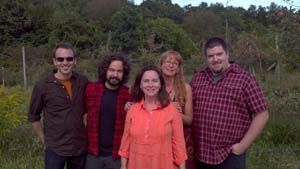 Founded by songwriter and singer Debbie Lan, Grenadilla's unique sound comes from layered voices singing up-beat melodies backed by Kwela flavored rhythms, textured with Cape Town jive and hints of the blues. Their newest CD, 'Can't Wait' won a Parents' Choice Gold Award and a Creative Child Magazine CD of the Year Award. 'Arabella Angelique', from their debut CD reached #1 on XMRadio's Kids Place Live! 13 under 13 charts, and can also be heard on 'Many Hands: Family Music for Haiti'. With Debbie Lan - piano and vocals, AnnMarie Callan – pennywhistle and vocals, Ike Shaw – guitar and vocals, Guthrie Lord – bass and Jim Dooley – drums.
Gutter Cat
Creekside Saturday 3:00pm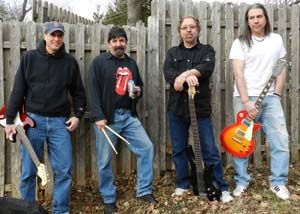 Gutter Cat lives and rocks in the Kingston, NY and surrounding areas, performing an all-over-the-map selection of old and new cover tunes from Alice In Chains, Bush, Petty, Hendrix, Kings of Leon, Deep Purple, CCR and more. Paul Palen (lead guitar and vocals) and Geoff Abdallah (drums and vocals) played together for years in the popular and successful Alternative Rock band Blue Green Algae. Vinnie Morano (bass and vocals) and Joe McConnell (rhythm and lead guitar) played in locally renowned bands like Trial & Error and Spent. Together, they make for a formidable and dynamic rock and roll quartet that always energizes their unsuspecting audience. Gutter Cat crammed the house at many local venues and had a wildly successful appearance at The Chance in Poughkeepsie. The band's genuine interest and love of musical adventure ensures that their music menu is always changing and evolving.
Vanessa Kniceley
Firehouse Sunday 12:00pm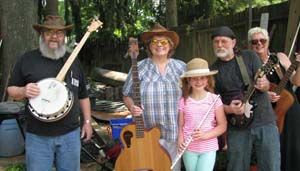 Vanessa Kniceley returns to the Street Festival with her back up band "Kniceley Done3" featuring Danetta Kniceley/Armm on bass, Nancy Kniceley/Armstrong on guitar, Jimmy Eppard on Mandolin and Charlie Kniceley on Bass.
Loveypie
Canal Lock Saturday 12:00pm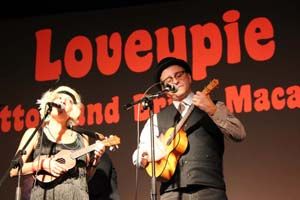 Loveypie is a duo - Brian Macaluso and Sari Botton - who sing and play standards on ukulele.
Ian Lloyd's Stories
Mountain Sunday 1:00pm
Ian Lloyd: Classic Rock STORIES lead singer "Brother Louie" [#1 Global Hit 1973], "Mammy Blue", "I'm Coming Home", has never stopped rocking. His voice can be heard on Foreigner / Yes / Billy Joel / Social Hero and more! Ian's collaboration with The Cars on his recording of "Slip Away" once again hit the Billboard Top 40. With his current album, "In The Land Of O-de-PO", a Global Marijuana Music Award for "Best Rock Track", and his performance of the theme song for Louis C.K.'s hit sitcom "Louie", Ian is hot & taking his energetic performance on the road.
Charles Lyonhart
Café Saturday 1:00pm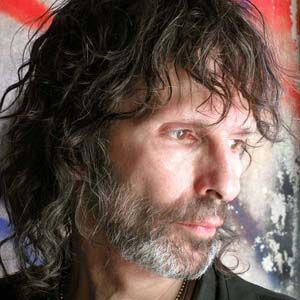 John Herald called Charles "one of the best singing songwriters" he's come across in ten years. "Charles Lyonhart is a truly inspiring artist. His melodies both haunt and energize." - Myra Friedman, Author "Buried Alive", Authorized Janis Joplin Biography. Charles was born in the Bronx where Poe Cottage became a shrine and its late author an inspiration. The 60's brought him in touch with the truths of Lenny Bruce, and most tellingly, the words and music of both the Beat Generation and the Folk Rock movement. In the course of his experiments with music, writing and counterculture living, Lyonhart met icons such as William S. Burroughs, Allen Ginsberg, Bob Dylan, and Tim Hardin. Making his way through the 70's and 80's and 90's sometimes on stage, other times as a writer and music critic for publications like Rolling Stone and Crawdaddy, he eventually turned to his true talents in life - a visionary songwriter and seasoned guitarist.
The Kurt Henry Band
Firehouse Saturday 4:00pm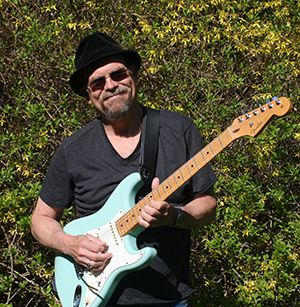 Mr. Henry alchemizes song genres and liquid guitar styles with fresh melody and pure lyrical gold; add an elemental rhythm section for strength—Eric Parker,drums; Albee Groth, bass—with Cheryl Lambert on harmonica and vocal assist and you've got 14 carat Catskill luster. Dragons are welcome.
Lara Hope and the Ark-Tones
Café Saturday 5:00pm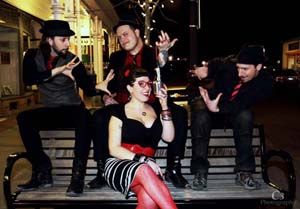 Named the #1 band to follow in 2014 by Come To Woodstock Magazine, Lara Hope and the Ark-Tones are The Hudson Valley's premier Rockabilly/Rhythm N Blues/Rock N Roll outfit! An all-star cocktail of musical talent, driven by Lara Hope's powerful and sultry vocals, and co-starring the cheery attitudes of all members. This fun-loving bunch packs the dance floor with re-workings of rockabilly and rhythm and blues classics and standards as well as their own original musical offerings, sure to please listeners of all ages and walks of life.
Lauren Diamond and the South Paw Specials
Café Saturday 4:00pm
A Folk, Rock, Blues, Funk, Pop artist best describes the unique, infectious and at times hypnotic style of the singer songwriter know as Lauren Diamond. Her band The South Paw Specials is filled with seasoned pros, including lead guitarist Kevin Hunter, drummer Dave Dawson and bassist Even Steven Levee, who have all performed and recorded with many world renowned acts.
Les Vegas
Mountain Sunday 2:00pm
In the sixties Les Vegas as Les Braunstein was the lead singer with the Soft White Underbelly, the band that became known as the Blue Oyster Cult. In the seventies and eighties he was the lead singer locally with the Test Tube Babies. In the nineties he was the music director of the Rosendale Street Festival. He will be accompanied by local lads, his son Mikie's band, The Big Heavy. His songs have been recorded by the Muppets, Peter Paul and Mary and Disney.
Victoria Levy
Firehouse Saturday 12:00pm
Hudson Valley native singer/songwriter Victoria Levy has a long and diverse resume. Victoria has just completed her latest album with multiple Grammy Award winning producer Kirk Yano. The album features Neal Evans (Soulive & Lettuce), Steve Holley on drums (Wings, Ian Hunter), Beki Brindle (Gracepool, Jerry Lee Lewis, Mary Stokes Band), & Tommy Mandel (Bryan Adams, B52's). Her album "Nowhere To Be" is available now. Over the years Victoria has worked/performed with The Blues Magoos, Patti Rothberg, Gene Cornish (The Rascals), Tommy James (Tommy James & The Shondells), Beki Brindle, John Sebastian, Walter Egan and many more!
Los Doggies
Creekside Sunday 4:00pm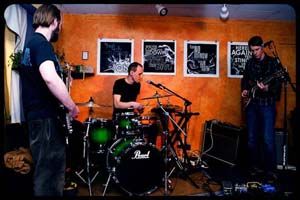 Los Doggies are an indie rock band from New Paltz, NY. The band plays a unique brand of arty and experimental pop music with lots of singing and lots of playing. On their self-titled debut, they improvised 1-minute wonders, inspired stylistically by the limitations of their answering machine. This dirty lo-fi folk classic hints at a grander and slightly higher-fi in the band's future. Their second release from 2002, Dos Doggies is an eclectic electro-pop of segued songs sung in pitch-bent vocals and set to midi drum beats. 2007's Onebody saw the band go full-on rock band with a larger instrumental palette, longer songs, and here and there the same old tongue-in-cheek novelty songs, but with epic prog anthems to round out the new sound. Their most recent release from 2014, e'rebody, expands on all things in every direction, featuring playground songs, metasongs, and a cover of the black-capped chickadee.
Los Thujones
Mountain Saturday 12:00pm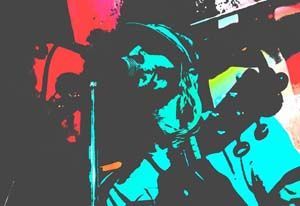 Los Thujones is a group of revolutionaries playing a unique blend of ska, reggae, bluegrass and Americana that some fans have affectionately dubbed "Skagrass."
Mad Satta
Firehouse Saturday 6:00pm
Mad Satta is coming up through the ranks and carving a place for themselves in today's world by bringing passionate, forward-thinking soul music back into the airwaves. This ultra-tight eight-piece outfit concocts lush neo-soul awash in electric organs, bright horns, and deep bass-line grooves. They have shared the stage with some notable musicians and musical acts— Afrika Bambaataa, Gabriel Garzon-Montano, and The Stepkids to name a few, and continue to appear all over the east coast. Their highly anticipated debut album, "Comfort", is set for a summer 2014 release, produced by triple Grammy-winner Prince Charles Alexander.
Paul Maloney
Café Sunday 12:00pm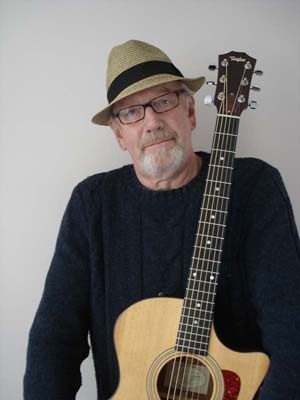 A fixture in the Hudson Valley music scene for over thirty years, Paul has played bass with The Saturday Night Bluegrass Band, The Pontiacs, Big Joe Fitz, Doctor Romo's Cajun Swing Orchestra, and Cleoma's Ghost. Influenced by Jesse Winchester, Mickey Newbury, John Hiatt, Tom Waits, Joan Armatrading and the Subdudes, he has performed his original, Folk/Americana music in a variety of clubs and cafes throughout the Northeast.
Myles Mancuso
Firehouse Saturday 7:00pm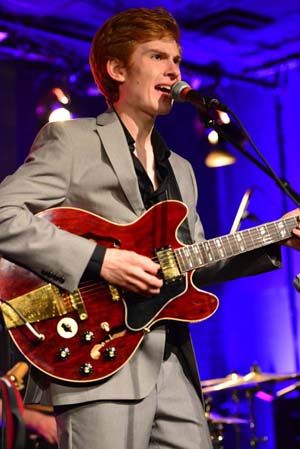 At the age of nine Myles was affectionately referred to as "Mojo" in a newspaper article about him. Now 18 years old Myles Mancuso is a nationally recognized prodigy who fronts his own band, singing and playing Guitar and Keyboards. Noted by True Fire as one of the Top 10 Guitar Prodigies in the World, Myles has been performing professionally for audiences since the age of 10. The band consists of Myles Mancuso on guitar and vocals, Joe Piteo on drums, Anthony Candullo on bass and vocals. Myles continues to perform steadily at establishments in NYC, the Hudson Valley and throughout the Tri-State Area. One attendee put it best after seeing a recent show "It's like seeing a musical legend in the making - this is a can't miss show"
Marty's Nags
Creekside Sunday 5:00pm
Three generations of Rosendale offspring performing a family act of classic music from Rogers & Hammerstein, Elvis, the Beatles and originals. Join in the community patriotic sing a long led by Rosendale native Dottie Einemann Pavacic. Individually the performers are acclaimed songwriters and musicians from Long Island with an extensive list of song credits. Don't miss this rare one time only memorable performance!
M'Bolo
Canal Lock Saturday 6:00pm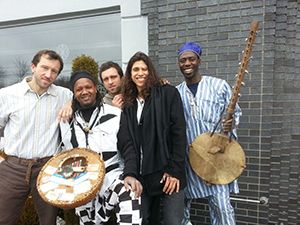 M'bolo is an exciting blend of different ethnic traditions from Senegal, West Africa. M'bollo means gathering people together in Senegal 's national language, Wolof. The music is written and arranged by Singer Amadou Diallo. Amadou brings the ancient rhythms of Africa to the present tense with the use of western instruments such as electric guitar, standup bass, mandolin and banjo. The music is upbeat, positive and super fun to dance to.
Paul McMahon
Creekside Sunday 12:00pm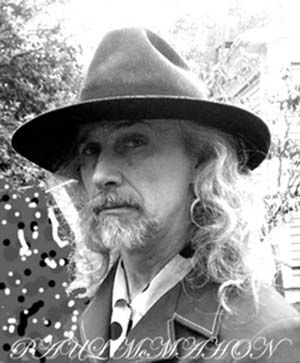 Paul McMahon is a legendary singer-songwriter from Woodstock. Set against Mississippi John Hurt style fingerpicking, McMahon's beautiful voice and sometimes mind-blowing lyrics weave the tale of this Goddess worshipper's journey through time and a few other dimensions. He has released ten albums and has played in many venues including CBGB's, the Knitting Factory, the Colony Cafe, the Kitchen and the Metropolitan Museum. "Paul's musical wizardry combines insights worthy of Dylan with the vocal charm of Willie Nelson and the eclecticism of the Beatles." -Sharon Gannon, Jivamukti Yoga School
Mid-Hudson Music Together
Canal Lock Sunday 12:00pm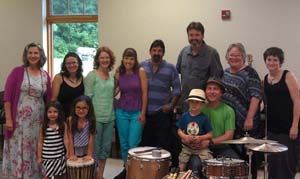 The Music Together Family Jam Band is happy to return to Rosendale this summer for the Rosendale Street Festival. Families with children of all ages are invited to hear some great tunes. Prepare to sing along, play along or simply tap your toes in true Music Together style. If you have taken our classes before, come see your favorite teacher lead you in song! Teachers from Catskill Mountain and Mid-Hudson Music Together will be present along with some fabulous guest performers.
Mister Kick
Creekside Saturday 5:00pm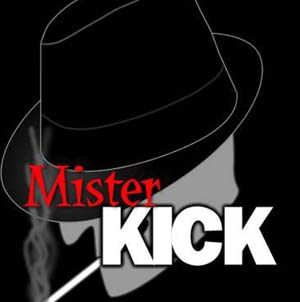 Mister Kick, based out of Kingston, NY started almost entirely by accident. Long story there… but the short version is – there were gigs to be played, and someone had to do it. We were only too happy to take it on. If there are any operating principles behind Mister Kick (which we're still not entirely sure there are,) they would be that we love playing what we play, and that we get people up to dance, sing along have a good time. Mister Kick performs 4 decades of Rock and Roll, R&B and some other great stuff one of the cats dragged in. Break out your dancing shoes, you're gonna need 'em! Mister Kick is: Mark Marshall, Guitar & vocals, Frank Casciaro, Bass & vocals, Jude DeFalco, Drums, Barry Petrillo, Guitar & vocals.
The New Lazy Boys
Creekside Saturday 7:00pm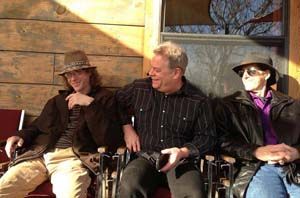 Formed in the Spring of 2009; The New Lazy Boys features the songwriting of Brooklyn native, Chris Gilli. Much of the material is a reflection of Chris' observations of The Hudson Valley from his doorstep in Bearsville; of time; memories & the travels that we go through in this life. Typically performing shows in a 3 piece semi-acoustic trio; sometimes utilizing various talented support muscians, The New Lazy Boys specialize in high energy shows without scorching your ears. A CD with tracks laid down at Professor Louie's (Cromatix; The Band) Studio in West Hurley is close to being released. Chris is backed by the ever energetic rhythm section of Rod Archer on bass and vocals and Bruce Hutchins on drums and vocals.
The New Liberrians
Creekside Sunday 2:00pm
This newly formed, oddly compatible group of the Hudson Valley's best create potent arrangements of Seth David Branitz's story-songs steeped in first choices and last chances.....bitterness and harmony. Featuring members of The Trapps, The Sweet Clementines and Snow Bear, the result is at once familiar, provocative and sweet. "It's not just the voice. It's the casual precision, the arc of melody, the weight of lyric....relentlessly groovy." -Chronogram April 2013.
New Paltz Rock
Canal Lock Saturday 1:00pm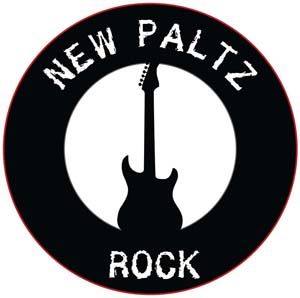 Directed by Julian Baker, New Paltz Rock has been providing young musicians with the opportunity to play in an organized rock band workshop environment since 2010. In these workshops, sessions are filled with playing, learning about rock music, working together as a team, picking up tips and tricks and performing. Students experience playing all types of rock music from the classics of the early days of rock & roll to today's rock music.
Wally Nichols
Café Sunday 3:00pm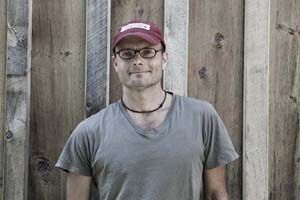 Wally Nichols lives on a Kerhonkson horse farm with his daughter. He's a DJ on WDST and a columnist for The Blue Stone Press. The original music he plays is somewhere between James Taylor and Jason Aldeen.
Old Double E
Café Saturday 3:00pm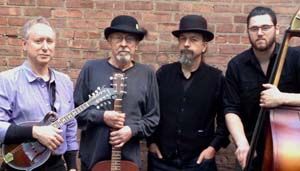 Realizing there was tens of dollars to be made in the fast-track "NewGrass" market, Ed "Edwardo" Butler (guitar, singin' and 4-string banjo) and Little Earl Lundy (just singin'), hailin' from Kentucky and Mississippi respectively, put on their thinkin' sombreros and started up The Old Double E. The ensemble is fattened out by John "Johnny Maggot" Adami (mandolin and guitar) and Kris "KG" Green (big bass fiddle). They is both yankees, but they sure can play! Anyhow, The Old Double E plays old-timey and new-timey tunes to drank, swear, sin, and repent to.
Passero
Mountain Sunday 4:00pm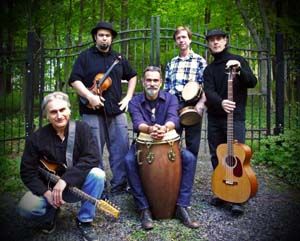 Passero is a progressive world beat (Campocino ) Latin rock band. They perform music from all over the planet with an Afro-Caribbean beat… and people show up to dance and party!
Paul Green Rock Academy
Mountain Saturday 3:00pm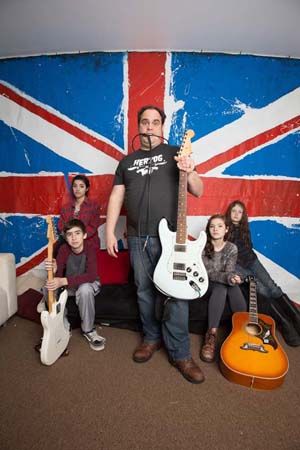 The Paul Green Rock Academy is a performance based music school founded by School of Rock originator Paul Green and a bunch of his awesome friends. The Rock Academy proceeds from the belief that the best way to learn to play music is to play music and The Rock Academy Show Band, comprised of some of the best young musicians in the Hudson Valley, represents the proof of those beliefs. These fine young musicians come here not to participate in the novelty of kids playing music, but rather in the majesty of kids playing rock music well.
Pitchfork Militia
Mountain Saturday 6:00pm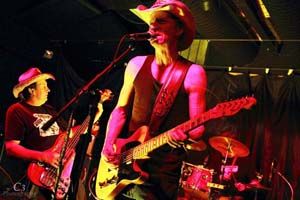 A mishmash of rock, blues, country and punk we call Apocabilly. It's fun, it's fast, it's loud! Peter Head on vocals and guitar, Karl Krause on bass and Joe P. Morgan on drums. Come join the Militia as they celebrate 20 years as a band! Pick up their latest CD "Bunch" and hear some even newer songs.
The Pleasers
Café Sunday 4:00pm
The Pleasers are known for crowd-rocking live performances featuring their unique take on the Motown/Soul sound. With their matching suits, and synchronized dance moves, their shows harken back to the days of old-school Motown while still feeling fresh, edgy and current. From their takes on Marvin Gaye, to The Temptations and many more, as well as their original tunes, The Pleasers ALWAYS live up to their name!
POOK and Energy
Theater Sunday 5:00pm
The Percussion Orchestra of Kingston (POOK) and ENERGY are programs of the Center for Creative Education in Kingston. Led by CCE director Robert 'Evry' Mann, POOK was founded in 1997 by three percussionists who also work as educators and social workers as a way to get kids off the streets and provide them with meaningful activity and important life skills. An Award Winning Energy Dance Company of Kingston, NY has swept the valley with its fresh and entertaining Hip-Hop, Reggae and Latin dance styles. They have won awards at B.E.T's segment of "Wild Out Wednesday" and "Showtime at the Apollo" at the world famous Apollo Theater. They have competed and won competitions across the country and was the opening act for "America's Best Dance Crew" and was named Albany's "Number One Dance Crew" in Albany, New York.
Protius
Mountain Saturday 5:00pm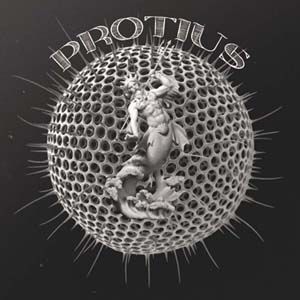 Protius is an all-original rock quartet of the heavy (yet melodic) persuasion. Tight, hard-driving, memorable hooks propel soaring melodies that lead the listener through the fantastic, the inspired and the sexy! Jillian Triplmoon - vocals, Dean Read – guitar, Ted Conway – bass, Tom Lenahan – drums. Protius is currently recording their debut album in Highland, NY.
Purple kniF
Mountain Saturday 1:00pm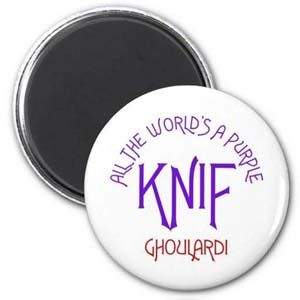 Purple KniF plays Maximum Surf & Twang - all-instrumental surf/hot rod/juvenile delinquent rock 'n' roll. They are: Baker Rorick (red bass guitar), Ted Lawrence (blue lead guitar), Johnny Teagle (orange lead guitar) and Doug Wygal (champagne sparkle drums). The band shares a love of cool vintage music and collectible instruments. Rorick hosts the yearly Woodstock Invitational Luthiers Showcase at the Bearsville Theater; Teagle is the author of The Fender Amps Book - The First 50 Years - and a former columnist for Vintage Guitar magazine; Wygal is a consultant (and former V.P. of A&R) to Sony Music - an avid vintage drum collector, and his drumming credits include The Individuals, Paul Collins Beat, The Wygals, and Beat Rodeo to name a few; Lawrence was a founding member of NYC instro bands, The Supertones and The HumanTornados.
Ratboy Jr.
Canal Lock Saturday 3:00pm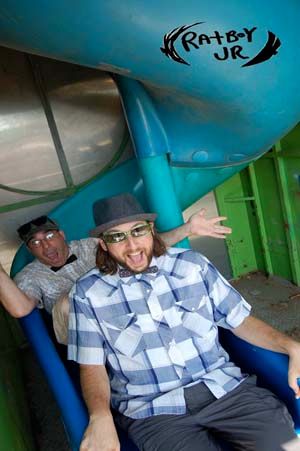 Ratboy Jr. is a rocking duo for all ages, a band for the whole fam, if you will. They are singer and guitarist Timmy and multi-tasker extraordinaire Matty (he plays drums and keyboards at the same time!). They perform energetic, catchy, and sometimes improvised tunes with hooks and stories that will get stuck in your head- songs about rocks that slide up hills, guitar playing chickens, and instructions on eating clouds.
Red Neckromancer
Creekside Sunday 1:00pm
If Mojo Nixon, Lemmy, and David Allen Coe met up after a Slayer show and decided to go back to some girls apartment to write songs then this band wouldn't exist because we'd be spending all our time listening to those recordings. But that never happened, so we started a three piece string band that sings about whiskey, imprisonment, heartbreak, rock and roll, and the devil.
Jude Roberts
Canal Lock Saturday 4:00pm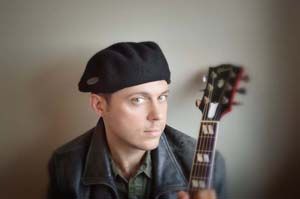 Jude Roberts weaves a graceful songwriting aesthetic into original folk music. Currently making his home in Accord, NY, he tours and performs frequently on both the East and the West Coast. Jude has performed with/opened for quite a few noteworthy musicians, but doesn't like to brag about it unless he's encouraged to. Jude's artfully crafted originals - emphasizing melody, dynamic chord changes, and insightful lyrics- are brought to life by a strong, pure voice and excellent guitar technique. Jude will be joined by sonically eloquent stringduster Rob Stein on pedal steel guitar. Rob adds an orchestral depth of support to the songs, with refined subtlety.
Rockelle Cakes
Canal Lock Saturday 5:00pm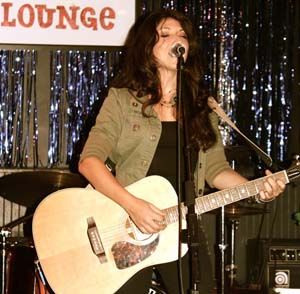 Rockelle Cakes is a talented and versatile multi-instrumental singer-songwriter and producer born and raised in NYC. She has a varied repertoire spanning genres such as progressive metal, folk, jazz, R&B, hip hop and alternative rock. Throughout her musical journey she's used her unique voice to bring a fresh perspective to familiar themes with her masterful songwriting. She's also captivated countless live audiences with her undeniable charisma and stage presence while performing hundreds of live shows.
Patti Rothberg
Mountain Saturday 8:00pm
Patti Rothberg's recording career goes back to 1996, with her debut on EMI Records, 'Between the 1 and the 9', which refers to the time she spent performing in New York City's 14th Street subway station. The title track relates some of her experiences, when an EMI executive discovered Patti performing there. Patti's new release and fifth full-length CD, 'Black Widow', explores moody, heartfelt themed, piano based compositions, rounded out with songs of her classic, signature guitar rock. The album marks Patti's first collaboration with co-producer, Lyle Puente, a union rendering a cohesive, seamless brand of music.
Rozsa
Canal Lock Saturday 2:00pm
ROZSA, the Rosendale based trio plays unique blend of balkan, gypsy, hungarian and klezmer music that ranges from sweet balads to wildly danceable transylvanian songs. Between a singer Katalin Pazmandi, also playing the recorder and violin, Mirko Gabler on a guitar and percussionist Fre Atlast they create a new world music sound that springs from a pure east european groove.
Saints of Swing
Café Sunday 5:00pm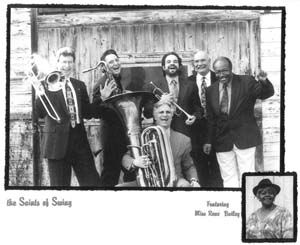 The Saints of Swing are an extraordinary collective of some of the tri-state area's finest performers. Providing a fresh and exciting experience in art and entertainment, the Saints of Swing specialize in eclectic and electric selections of foot-tappin' Swing classics... Hot N' Cool Jazz served up however you like it - from spicy New Orleans Dixieland style (complete with a dancin' tuba player!) to elegant New York City sizzlers... Motown, R&B... Ballroom favorites... and even 1,000,000-watt Gospel, Latin, and Klezmer classics!
Pete Santora
Café Saturday 12:00pm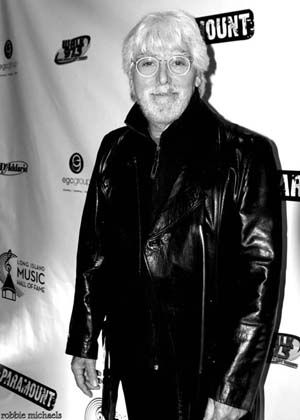 Pete is a former original cast member of the Broadway, National and London companies of "Beatlemania" in which he portrayed George Harrison. He can be seen in the films "Goodfella's" and "Godfather 3" and on TV in various episodes of the original "Law and Order".
Dorraine Scofield
Café Sunday 1:00pm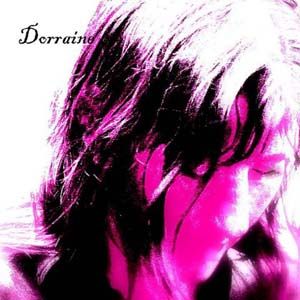 Dorraine performs originals and covers as a soloist, duo or trio group, occasionally with the Phantoms Acapella and an acoustic originals trio called Blind Mice. Dorraine & JB Hunt also manage and perform in a popular 5-piece new country/rock cover band in the Hudson Valley known as Thunder Ridge and have opened for Levon Helm at the Ramble.
Soul Device Band
Café Saturday 6:00pm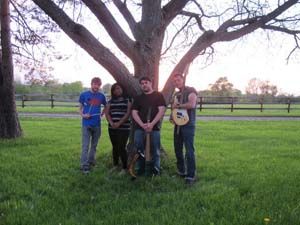 Soul Device band is a rock, blues, fusion and acoustic jazz band based in Kingston, New York. With Natasha Barnes as lead vocalist, Steve Mulvaney playing high energy electric/acoustic guitar and Jesse Citron as bassist, they will be sure to please any crowd! Live Aid performing artists, the band is featured on two current Live Aid albums.
Spiral Up Kids
Canal Lock Sunday 4:00pm

Soundtracking the family experience ... Spiral Up Kids blends an earthy jamband style with layers of sweet vocal harmonies to create an originally infectious rhythmically roots based sound. They released their debut CD in 2009 and have since been performing their free-range organic music throughout the Hudson Valley and New York City. A new studio CD will be released in the Fall of 2014. The band has played various benefit shows through the years to assist local schools, libraries and organizations to raise money for new playground equipment, books for less fortunate children, and arts in education. Tim Whalen - drums & vocals, Darren Cohen - guitar, Robin Baker - vocals, Ross Rice - keyboards, Jason Sarubbi - bass.
Street Fest All Stars
Firehouse Sunday 1:00pm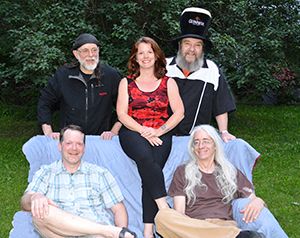 This band features players who have been involved in many Rosendale Street Festivals both on and offstage. It features Carrie Wykoff, Charlie Knicely, Ross Rice, Jimmy Epphart, Tim Whalen, Bob Shaut, Fre Atlast and Caru Thompson. Put on your dancing shoes and get ready to get in the groove with this rockin band!
The Tall Weeds
Creekside Saturday 6:00pm

The Tall Weeds are an original grass roots rock band based out of Beacon, N.Y. They were formed in the winter of 2011 and have been writing original music and performing at venues all over the Hudson Valley region ever since. The Tall weeds pull from an extensive musical background to create songs which are powered by the forces of the Hudson Valley and they live and perform by their lyric and credo " Tap into the Energy".
TigerPiss
Mountain Sunday 5:00pm
Since forming in 2007, Kingston, NY's Tiger Piss have become an exemplary band to hold up for those seeking fun sing-a-long rock n' roll that still matters. Bourne from a true DIY aesthetic, Tiger Piss has self-promoted their way into many hearts over the course of eleven national tours, most recently as a part of the CONEY ISLAND ROCK N' ROLL ROADSHOW. Sexy without the sleaze, but still nastier than mama permits, this power trio brings you raw rock-n-roll...the way it should be.
Tulula!
Creekside Saturday 2:00pm
Tulula! has been stomping around Rip Van Winkle's dreamland since the mid-ougts. The Acid-Cowboy quartet of Jason Broome (guitar/vocals), Rob Norris (bass/vocals), Chris Bradley (drums/vocals) and Daniel Weintraub (guitar/vocals) come off like a mosh pit at a gypsy carnival followed by a séance with the 27 club. Between them, these four veterans of underground music have toured the world, recorded over twenty-five albums and eaten like princes with paupers. Tulula! is sure to whisk you one dance away from the happy farm.
Voodelic
Mountain Sunday 6:00pm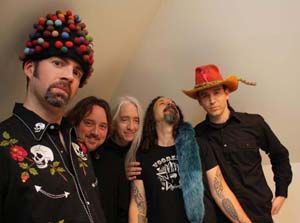 This is one high-impact, must-see live band! The group connects with each other in a way that can only be described as rousing and brimstone-spiritual; the rapport seems straight out of a big tent revival. Little Earl's singing is articulate and righteous soul rage, with words that chase contemporary targets with Biblical methods, politicized and gospelized in equal measure. Bassist Colin Almquist, and drummer Dan Cartwright's snappy, syncopated, big-bottom grooves anchor the soaring drama of the group harmonies and Ross Rice's organ, a blend of sternum-punishing precision and ethereal grace. When guitarist Eric Cartwright rips a squealing solo right out of an '80s glam/metal tune over a groove that sounds like Little Feat or the Meters played by Helmet, nobody's apologizing for anything. It's all in there, and they mean every bit of it.
The Big Takeover
Mountain, Saturday 4:00pm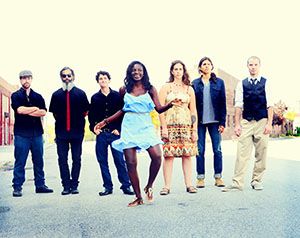 The Big Takeover is a unique concoction of backgrounds and spirits that perfectly creates a version of reggae that is fresh and vivid. With Jamaican born and raised NeeNee Rushie as a captivating and memorable front woman, this movement complete with a playful horn section, pulsating bass and drums, and a hypnotizing rhythm section fills its audience's hearts with good vibes and solid joy. This New York based band was formed in 2008, and since then has played over 500 shows in cities all over the east coast. They have released two full length studio albums, and anticipate a third by the new year. They also have the pleasure of calling true reggae royalties such as The Wailers, The Skatalites, The Slackers, Yellow Man, Taurrus Riley, Inner Circle, and Sister Nancy their stage mates. The Big Takeover is Nee Nee Rushie on Lead Vocals, Rob Kissner on Bass, Andrew Vogt on Trombone, Chas Montrose on Saxophone, Alex Figura on Guitar and Hector Becerra on Drums.
Whiskey Mountain
Creekside Saturday 4:00pm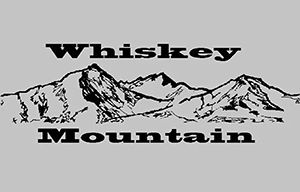 Hailing from Olivebridge, Whiskey Mountain brings back Hudson Valley 'Rock & Soul' favorites, as well as original material.
iS
Creekside, Saturday 2:00pm
iS is an unusual, three piece jam band that delivers live performances to electrify audiences. The bands name, which loosely means "The present tense", emphasizes their improvisational nature. Each show offers a unique experience that includes diverse, memorable songs and exceptional musicianship. iS is; Michael Friest on Bass and Vocals, Matt Donahue on Drums and Pieter Van Leeuwen on Keyboards and vocals.